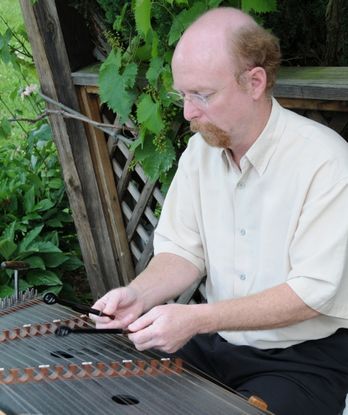 Kyle Meadows was born in North Carolina and grew up in the Philippines, Florida, and South Carolina. He has played instruments most of his life, starting with the piano at age five.
     Kyle has worked as a potter, scientist, and teacher. He now plays the hammered dulcimer full time and is known locally and nationally as one of the finest hammered dulcimer players available. A performer with the Kentucky Arts Council, Cincinnati Artswave, and the Cincinnati Arts Association, Kyle has shared the stage with such internationally known acts as Mark O'Connor, the Cincinnati Symphony Orchestra, Homer Ledford, and Ralph Stanley, Jr. He plays for a variety of events including festivals, parties, weddings, and receptions, and performs healing music in hospices, hospitals, and oncology centers for the Cincinnati Arts Association's Arts in Healing program.
     Kyle has a comfortable, almost effortless approach to his instrument, and to the variety of
songs he adapts to it. The beautiful sound of the hammered dulcimer first attracted him to the
instrument and continues to inspire him today. Its bell-like tones resonate and create layers of
sounds that mingle with one another. He is inspired by all the music he has heard during his life, including traditional, popular, and classical. He uses elements of these genres in his arrangements and performs some unexpected popular tunes, which turn out beautifully. He plays mostly traditional Celtic and American music but includes some modern tunes as well, so the selections range from ancient Gaelic music to the Beatles. He has four recordings, most recently Comfort and Joy, a collection of holiday tunes featuring Celtic harpist Tisa McGraw.
     He lives in a crooked, historic farmhouse in Cold Spring, Kentucky with a talented, beautiful,
grimy blacksmith (his wife), two dogs, one cat, and twelve chickens.